Chuck E. Cheese's have the perfect recipe to satisfy your appetite for food and fun. Our pizzas are made fresh, never frozen. We use only the freashest ingredients and toppings, and oven-bake each pizza to order. At our salad bar. we offer over 40 garden-fresh items to make a salad just the way you like it. Plush, we offer other great options like oven-baked sandwiches and mouthwatering buffalo wings.
Made Fresh to Order
Edit
Pizza dough made fresh in-hous, never frozen, topped with our own tomato herb sauce, freshly shredded mozzarella cheese and your choice of great meat and vegetable toppings.
Toppings: Pepperoni, Bacon, Jalapenos, Chicken, Tomatoes, Mushrooms, Sausage, Beef, Pineapple, Black Olives, Red Onions, Canadian Bacon, Green Peppers
Individual (6 slices)
Medium (10 slices)
Large (12 slices)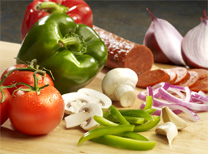 Specialty Pizza
Edit
Super Combo
Pepperoni, sausage, beef, black olives, mushrooms, red onions, and green peppers
All-Meat Combo
Pepperoni, sausage, bacon, Canadian bacon, and beef
BBQ Chicken
Rich smoky-and-spicy BBQ sauce tooped with strips of roasted chicken breast, red onions, and green peppers
Vegetarian
Black olives, mushrooms, red onions, green peppers, and tomatoes
Gluten-Free Pizza
An individual cheese pizza prepared in a dedicated gluten-free facility, shipped, and baked and delivered to your table in a sealed bag.