Unknown

Description

Gender
Unknown
Position
Unknown
Species
Mouse or Rat

Voice actors

Unknown
Charles "Chuck" Entertainment Cheese is the mascot of the Chuck E. Cheese restraunts.
Chuck E. Cheese grew up at the St. Marinara Orphange outside Atlantic City, New Jersey. Growing up feeling slighty out of place, a mouse amoug boys, he found pure joy and escape in music. At St. Marinara's band room, he learned to play many instrumants, but his favorite of all time is his (built-to-size) quitar. Chuck E. dabbles in many sorts of musical styles, from punk to pop, from country to rap, but at the end of the day, it dosen't matter what style of music he plays. Chuck E. is happiest when he gets to play for children.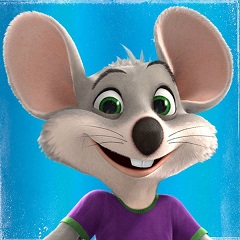 The gallery for Chuck can be found here.